If you want to connect with other partners, have a front-row seat to learn about the newest releases, share information with other Business Decision-makers, or simply grow together with the Dynamics 365 community, attending Directions ASIA is a no-brainer. Directions4Partners are gathering the Microsoft teams and the best of the industry to come and teach you all the latest information in person, including:
In-depth update on Business Central 2023 wave 1 release
Key Microsoft Speakers Mike Morton, Jannik Bausager and Dmitry Chadayev
Localizations of Business Central, for the APAC Countries
Migration of existing customers, from NAV to Dynamics 365 Business Central
Get updated on the latest in AL Development
Innovations within ISV solutions and service offerings
How to launch a successful sales- and marketing Go to Market Strategy for your cloud business
Get Partner program updates, new Microsoft initiatives to support partners and best practices on moving to a cloud business model
Increased focus on the Power Platform and creating value for your customers.
Various Pre-conference Trainings with in-depth workshops.
During the conference I will be conducting two sessions together with Stephen and we are very excited about it!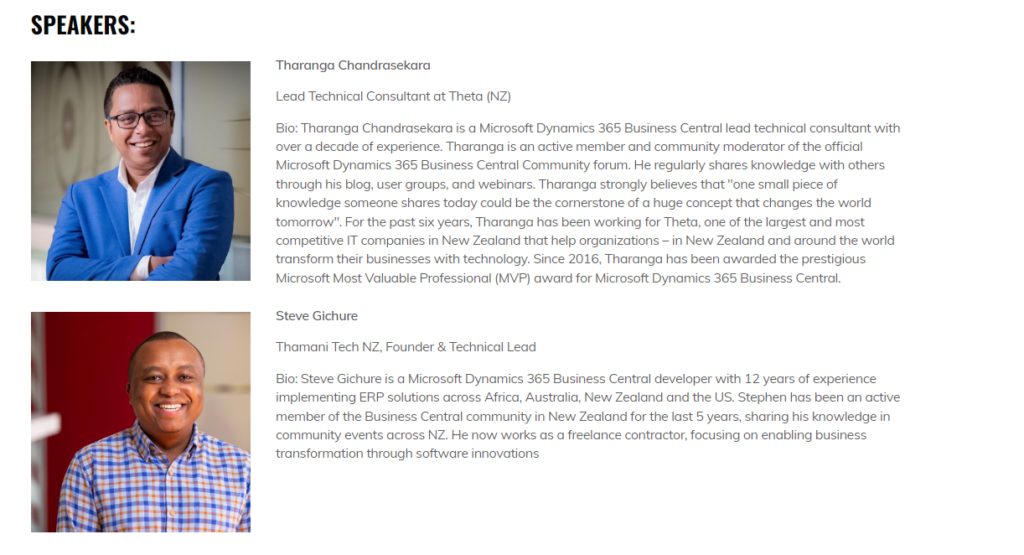 Attend our sessions if you are excited about Integrations because we will talk about that a lot! Below are the session abstracts for two of our sessions.

Power Automate or Logic Apps to use?
Logic Apps x Power Automate, which one should I choose?
This question has been asked every time one of those technologies is discussed, and with more and more integration solutions being developed daily, it is vital to have a proper answer. With so many similarities, it is a very pertinent question.
This talk by Tharanga Chandrasekara, Lead Technical Consultant at Theta (NZ) and Business Central MVP for the past six years, together with Stephen Gichure, Founder & Technical Lead at Thamani Tech NZ, will help you to answer the question.
You might be surprised by the answer.

Mistakes made by developers during Business Central integration projects
During the session, Tharanga Chandrasekara, lead technical consultant at Theta(NZ) and Business Central MVP for the past six years, together with Stephen Gichure, Founder & Technical Lead at Thamani Tech NZ, will take you through some of the common mistakes made by developers while developing integrations between Business Central and other third party applications.
Tharanga and Stephen will talk about their experiences and share some of the best practices they follow, which can be used to improve your solutions. They will use real-life examples and demos to showcase the pros and cons of most of the patterns most developers use and explain what can be done to move away from them.
Do not miss the session if you are a developer who works on Business Central integration projects!
Hope to see you in Bangkok!!
Regards,
Tharanga Chandrasekara
We are sorry that this post was not useful for you!
Let us improve this post!
Tell us how we can improve this post?